Visitors Online: 10
†
Search Products
Enter Keyword and click Go to Search Products

Your Account
Herbarium RECIPES
Your Wish List

†
†
~WELCOME~

For more than 34 years, the HERBARIUM has been the most trusted source for herbal information and products in Western Massachusetts.

The HERBARIUM is a retail store featuring the choicest herbal and nutritional supplements available. We carry the largest selection of bulk herbs and spices in Western New England. We also formulate and manufacture natural products, ranging from Medicinal teas to Aromatherapy blends.

We have researched and tested the majority of the products on our shelves, even traveling to the manufacturers' laboratories to inspect their facilities. Our quality standards are of prime importance and our reputation for quality and knowledge is unparalleled.






Beat allergies naturally!: wwlp.com


Watch Jonathan on Mass Appeal!





STORE HOURS:
Monday 9:30 - 5pm
Tuesday 9:30 - 5pm
Wednesday 9:30 - 5pm
Thursday 9:30 - 6pm
Friday 9:30 - 5pm
Saturday 9:30 - 4pm
Sunday-closed

Request our 2012 Catalog!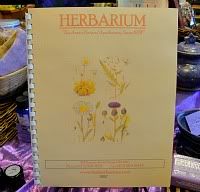 And it's still FREE!
Just Contact us with your Name & Address
And look for it in the Mail~

~~~~~~~~~~~~~~~~~~~~~~~~~~~~~~~~~~~~~~~~~~~~~~~~~~
CLINICAL AROMATHERAPY




Suitable for Nurses, Physicians, Massage Therapists, Physical Therapists,
Counselors, Acupuncturists, and other health professionals.
Endorsed by the American Holistic Nurses Association.
16 Contact hours per module.
CEUís awarded through AACN for Nurses, and through NCBTMB for LMTís.
For more information contact Kathy Duffy at aromaherb123@aol.com
~~~~~~~~~~~~~~~~~~~~~~~~~~~~~~~~~~~~~~~~~~~~~~~~~~

WHOLESALE Available to approved
Vendors & Health Care Professionals
please inquire at info@theherbarium.com



Sign-Up for our
Email NEWSLETTER Below




Click Below to visit our BLOG!



*NEW "RECIPE" PAGE*
Click on the "Herbarium RECIPES" button at the left to be brought to our NEW Recipe Section.
We'll be updating and adding new recipes soon!




Thank you for your continued support and interest in the HERBARIUM.
We will continue to offer the finest products for your health and well being.

HERBARIUM
"The Area's Natural Apothecary"
Since 1978
264 Exchange Street
Chicopee MA 01013
413 598-8119



Thank-You for Voting us "BEST" in the Advocate!


Crafty Newsletters
†

†

†

†

†

†

†

†

All Rights Reserved © 2009†HERBARIUM
Powered by DIYeStores.com - a DIY Website Builder
Total Website Visits: 92063
†
Shopping Cart
Cart Value: $0.00
Cart Items: 0
View Cart
†
Featured Products
OPC Factor
$30.00
Organic SEAWEED Bath Bags
$1.89
Money Oil Spray
$5.99
Dilly DIP Mix
$2.99
MAGIC SALVE
$12.99
AROMATHERAPY POTTERY DIFFUSERS
$19.95
PAIN FREE
$14.98
CALM HEART
$6.99
Mulling Spices
$3.00
Dragon's Blood
$13.00
Sweetgrass Braid
$8.99
Kava Gold
$13.17
†